Workplace Slip and Fall Lawyer
If you slip and fall at work, you may suffer from injuries that take you out of work temporarily, or you may suffer lifelong disability.
Workers' compensation is intended to reimburse injured workers for time off, medical expenses, and other costs associated with the injury.
With offices in Fresno and Salinas, CA, slip and fall lawyer Gilbert Fisher can help navigate the complexities of California's labor laws.
Slip and fall accidents in the workplace can require costly medical care. A trip and fall attorney can help you collect the compensation necessary to cover these expenses.
California Workers' Compensation Laws
If you have suffered a slip and fall injury at work, you may not know how to proceed with your workers' comp claim. Further, there may be cases in which the insurance company denies your claim or attempts to reduce your total payment. No matter the circumstances of your slip and fall case, Mr. Fisher can be your advocate during this time and recommend the right course of action to ensure the best outcome.
Negligence Not Required
If you suffer an injury in a slip and fall accident at work, you have a right to workers' compensation benefits. It is not necessary for us to show that the employer, property owner, or another party was negligent in order for you to receive damages; the injury itself is sufficient.
Included Benefits
Workers' compensation benefits typically include payment of medical bills, out-of-pocket expenses, and some compensation for lost wages during treatment and recovery.
Filing a Claim
To start a claim, you must file a "first report of injury" form with your employer. This includes specific information about the incident such as the date, time, and cause of injury. At our law firm, based in Fresno and Salinas, we can help you file your claim so you have the best chance of obtaining fair compensation.
Seeking Medical Care
Your employer will provide you a list of approved physicians and you will select one as your "primary treating physician." Your primary physician will evaluate you, and if necessary, refer you to a specialist. You can elect to instead see your own physician, but there is no guarantee of reimbursement and you could be responsible for expensive medical bills.
If you slip and fall at work, you deserve peace of mind in knowing that an attorney is fighting for maximum compensation. Our attorney can help you file a claim and hold your employer's workers' comp insurance company accountable for your restitution. We can also determine if another party, such as the property owner or a co-worker, acted negligently and contributed to your injuries.
Contact us online today to ask a question or request a free case review with Gilbert Fisher. You can also schedule a consultation at our Fresno pr Salinas offices by calling:
A Fall Lawyer Fresno Trusts
"Attorney Gilbert Fisher is honest, knowledgeable, and will fight for your workers compensation rights. I would highly recommend Gilbert for any type of legal matter with your employer."

David Moore, 5-Star Review
Workplace Slip and Fall Accidents
A Rave Review for Attorney Fisher's Work
"I really can't express how great of an attorney Mr. Fisher is. From day one, I felt like they were there for me and fought hard for my case. I called them one day and the next day they were able to get me in. I met with Mr. Fisher on the day of my consultation (free). I was not passed from one person to the other. The staff was super professional and friendly. They were in contact with me throughout my case, reminding me of appointments and important meetings. I've heard of horrible experiences of people with other attorneys and all I can say is that I was truly blessed. Thank you Mr. Fisher and his amazing team for all you did for me and my family. Forever grateful!!"

Karen Mavrikis
Slips, Trips, and Falls at Work
Slip, trip, and fall accidents at work vary greatly depending on the type of fall that occurred, the cause of the fall, and the severity of injuries. These types of falls can affect any type of worker, whether you are employed in an office, grocery store, retail shop, school, or on a
construction site
.
Slippery Floors
Spilled liquids such as water, ice, grease, and other materials can pose a hazard. In addition, freshly mopped and polished floors can make the surface more slippery and workers more vulnerable to falls. Dusty floors can also make workers more prone to slipping on the uneven surfaces. Rainy or icy conditions can also cause floors to become slippery.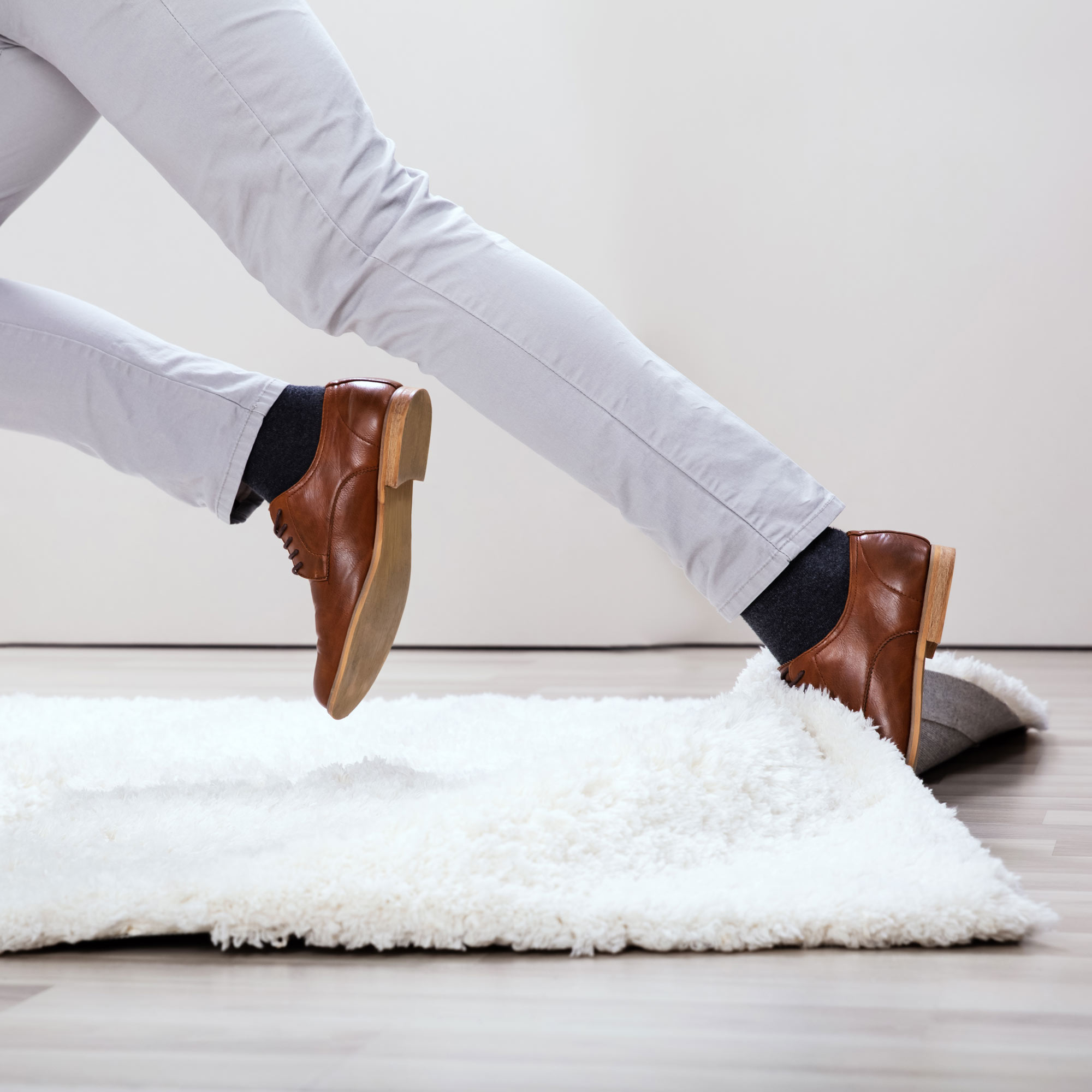 Loose Flooring
Loose rugs, mats, cardboard, or other items on the floor can cause employees to slip as they attempt to walk across the unattached and loose surface.
Poorly Lit Areas
Workers are more likely to fall if an area is poorly lit. This particularly applies to stairways, steps, or ledges. With low lighting, employees can misjudge or not see the edge of a step or ledge and fall.
Loose or Uneven Flooring or Stairs
Cracked floors, holes in floors, uneven floors, torn carpets, and other flooring issues can be dangerous. In addition, a stairway with uneven steps or a broken or missing handrail can lead to an on-the-job injury.
Obstacles or Obstructions
Obstacles like exposed wires, cables, and other objects on the floor can cause an employee to trip. Fixed obstructions like low walls, curbs in parking lots, and more can also be tripping hazards.
Falls from Greater Heights
Falls from great heights like ladders, scaffolding, or areas lacking guardrails can cause catastrophic injuries. These types of injuries typically affect workers in the construction industry. They may result in long-term injuries, but our Fresno or Salinas offices are ready to fight for the compensation you will need in order to weather your losses.
The Clock Is Ticking
Missing a deadline could destroy your case
California state law provides various deadlines that must be followed when pursuing workers' compensation and any lawsuit. Whether you suffered a simple sprain or a serious brain injury as a result of dangerous conditions, missing these deadlines likely means you will never receive the compensation you deserve.
Workers' Comp
Regarding workers' compensation claims, you have 30 days from the time of your fall accident to notify your employer in writing about what happened. The statute of limitations for filing your workers' compensation lawsuit gives you one year from the day of your fall accident.
Additional Lawsuit
When it comes to filing an additional lawsuit, whether you pursue a personal injury, premises liability, or wrongful death lawsuit, California's statute of limitations gives you two years from the date of your slip and fall accident to file the lawsuit.
Rare Extensions
Extensions are not common, but a statute of limitations could be extended if the injured person did not realize their slip and fall was caused by another person, if the injured person was a minor and could not file a lawsuit, or if the liable party left California before the lawsuit could be filed.
Talk To a Workplace Personal Injury Lawyer Today
Mr. Fisher is here to help you
It is better to consult a fall lawyer rather than determine for yourself if you have a claim for compensation. Attorney Gilbert E. Fisher can review the details of your slip, trip, or fall accident, including the statute of limitations for your case.
If you have suffered from dangerous conditions, you deserve a lawyer who can safely guide you through your case. To find out if you have a case and take the first step towards getting the compensation you deserve, contact our firm for your free consultation.
Types of Injuries in Slip and Fall Cases
Most often, these accidents result in soft tissue injuries such as sprained ligaments, tendons, and muscles. However, some workers suffer more serious and long-lasting injuries such as brain injuries, fractures, and amputations. Getting in touch with our practice in Fresno or Salinas can help you learn more about your short- and long-term legal options.
Should I Pursue a Personal Injury, Premises Liability, or Wrongful Death Lawsuit?
If injured workers decide to pursue a personal injury, premises liability, or wrongful death lawsuit, a trip and fall attorney will need to establish negligence on the part of the liable person, property owner, or other party. In addition, it is important to note that you may not be eligible to claim workers' comp benefits if you pursue these types of lawsuits.
If you feel that a property owner, co-worker, third-party company, or another person or entity acted in a negligent manner and contributed to serious injuries that result in lifelong disabilities, affect your ability to work, and negatively impact your quality of life, it may be in your best interest to pursue an injury lawsuit. While these types of lawsuits require the plaintiff to prove negligence on the part of the property owner or other liable party, in certain cases, they offer the best chance to recover full compensation for work injuries that result in lifelong disabilities. At our practice, with offices in Fresno and Salinas, Mr. Fisher will review the details of your claim and determine which option is most appropriate in your case.
According to the CDC, slips, trips, and falls were some of the leading causes of work-related injuries treated in an emergency room in 2019.
A Very Pleased Client Who Recommends Us
"Gilbert Fisher is a great attorney. I totally recommend Mr. Fisher, he is efficient, professional, and competent. His fees are more than reasonable. Attorney Gilbert Fisher's staff are on top of it. Everyone treated me with professionalism, respect, and were prompt with all required paperwork. I was kept informed of every action and procedure that was taken. Mr. Fisher was upfront and straight with me about my case. Every time I met with Mr. Fisher or his staff I felt a personal touch. I am more than satisfied with my settlement. I totally recommend Attorney Gilbert Fisher. - RS"

Lou Salazar